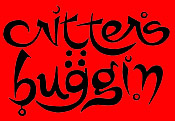 News Live Store Listen Images Movies Links Barons Club Management - Booking - Press - Stage Plot - Input List
---
Breaking News - posted 12.5.2014
NEW EP 'MUTI' NOW AVAILABLE FOR DOWNLOAD

Yes, all of this is true! Visit our online store NOW and be the first one on your block
to own the latest EP from Critters Buggin!!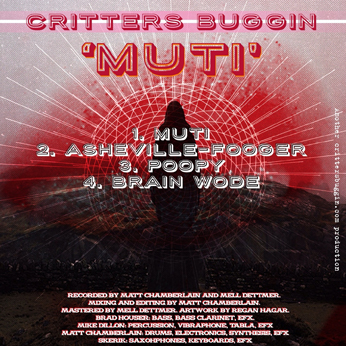 ---
Breaking News - posted 9.25.2014
NEW LIVE SHOWS - NOW WITH EVEN MORE BUKKAKE!!

Critters Buggin and Master Musicians of Bukkake
DEC 12, 2014 - NECTAR, SEATTLE, WA
DEC 13, 2014 - STAR THEATER, PORTLAND, OR - TICKETS HERE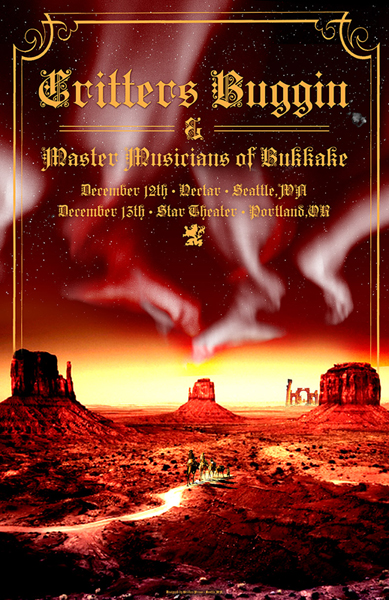 ---
Breaking News - posted 7.24.2014
SHOW ANNOUNCEMENT - AUGUST 13, 2014 - AUSTIN, TX!!!!

BRAINWASH RADIO.
ALL FRANKENSTEIN CONTROLS ARE IN PLACE.
ANTENNAS ARE FOCUSED TOWARDS TEXAS.
NON-COMPLIANCE IS A FAILURE TO THE SYSTEM.

TICKETS AVAILABLE HERE!!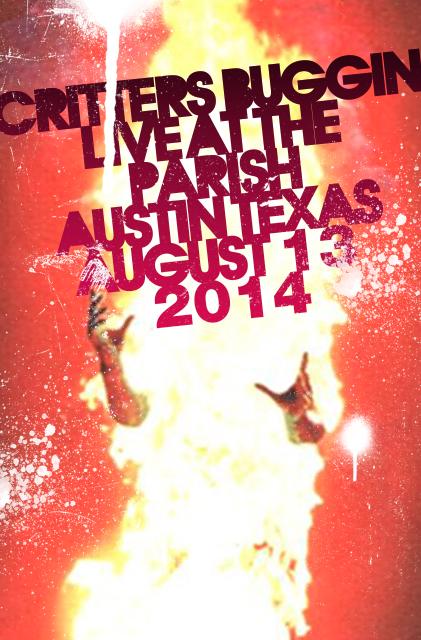 ---
Breaking News - posted 5.11.2012
New Matt Chamberlain Project Album Available for order through the Critters Buggin Store
Matt Chamberlain's new project "Company 23" has a new release which is now available for to order through the Critters Buggin Store.

Visit our store or mattchamberlain.com to order this decadent new release in a variety of flavors including vinyl, CD, FLAC and MP3.
---
Breaking News - posted 01.31.2012
Kickstarter Campaign for Skerik's Bandalabra!!!
We're trying to raise money to get the new CD from Skerik's new project "Bandalabra" band. Lots of great incentives
for your donations - free CD's, guest list access for shows, and for the right amount of money
maybe you can talk Skerik into taking a bath with you!

Skerik
Dvonne Lewis
Evan Flory-Barnes
Andy Coe

Please donate something today, grazie prego!!!

http://www.kickstarter.com/projects/1775245510/skeriks-bandalabra-record?ref=email
---
Breaking News - posted 12.7.2011
HUGE SALE AT IN THE CRITTERS BUGGIN SUPER STORE!!!
ALL CDs are only $10.00 until January 1 in the Critters Buggin Store!!!

TELL THE WORLD! SHOUT IT FROM ALL MOUNTAINTOPS (or hills?)!
FULL 16bit 44khz GLORY!!
NONE OF THIS MP3,iITUNES CRAPPY RESOLUTION. JUST BIGGER CD RESOLUTION!! (?)
ALL ANSWERS QUESTIONED, ALL QUESTIONS SEQUESTERED!!!!

Visit Critters Buggin Store for your holiday shopping needs!
---
---
New Garage a Trois CD and Spring 2011 Tour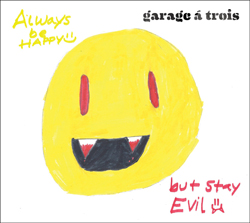 Garage a Trois new CD "Always Be Happy...But Stay Evil" is available today!

Visit the Royal Potato Family or your favorite local indie record stores or anywhere you buy music online--iTunes, Amazon, eMusic, etc. West Coast tour starts next week.
Be sure and visit the Garage a Trois website for a complete listing of dates.
---
"Modular | Sonic Explorations" by Matt Chamberlain, Viktor Krauss, and Dan Phelps available now!



Matt Chamberlain, Viktor Krauss, and Dan Phelps announce the release of a new recording called "Modular | Sonic Explorations".

Visit the Oceanographic Records to purchase a copy and to stream samples.

This amazing recording is chock full of beautiful experimental atmospheric compositions which finds the listener riding through a forest of organica and electronic exploration.

This foil debossed, triple gatefold package includes two 12" LP's of six musical explorations, and a 12" x 12" book of Field Notes, Readings, and Data, printed in high definition on a satin coated 60lb cover stock. The records are analog mastered for vinyl, directly from the 1/2" master tapes, and pressed on high quality, 140g virgin vinyl at 45 rotations per minute for the highest audio quality. and the 36 page interactive PDF supplement. The Deluxe Vinyl Edition is limited to 1000 copies.

Also includes immediate download of 6-track album in your choice of 320k mp3, FLAC, or just about any other format you could possibly desire as well as a 36 page interactive PDF supplement.











---
New Dead Kenny G's CD and Spring 2011 Tour
The Dead Kenny G's are at it again! On a never ending quest to destroy all Smooth-Jazz fascists, The Dead Kenny G's are about ready to birth another CD into the world. Their debut release on Royal Potato Family records titled Operation Long Leash is set for delivery on March 15, 2011. Keep your eyes on this site or the Royal Potato Family website for ordering information.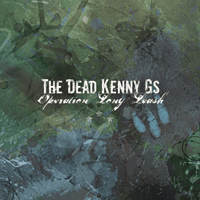 Visit the Dead Kenny G's Website for song samples and tour dates.,
Starting on February 3, 2011 the DKG's will embark on a month and a half long U.S. Tour with dates from Colorado to Virgina.
Check The Dead Kenny G's website or the Live page on this website.







---
DKG's Fall 2010 Tour
The Dead Kenny G's are heading out on another gigantic fall tour starting in October. And Mike Dillon and Earl Harvin will be doing some dates in early October as well.

Check the Tour Dates page for all the deets.
---
Skerik teams up with Radioactive to bring you - SKERDIO!
Skerik and rapper Radioactive (ex-Michael Franti and Spearhead) will be touring the West Coast as a duo in March under the name Skerdio. Skerik says it's a "Beatboxing beats duo. Loopin, samplin, knobs and sax........!!! " Check out the "LIVE" page for dates and visit the Skerdio myspace page for more details. http://www.myspace.com/skerdio
Out now - Garage A Trois - Power Patriot!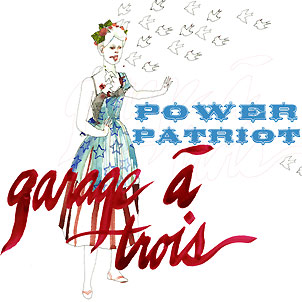 The newest release from Garage A Trois - Power Patriot is strong as a bull!!
Featuring Skerik, Mike Dillon, Stanton Moore, and Marco Benevento.
Visit the Garage A Trois superstore to snag a copy today!
---
The Debut Release from the Dead Kenny G's - Bewildered Herd - out now!


Finally.. the debut release from the DEAD KENNY G's! Out Now!
In celebration, all CDs in the store have been reduced in price for a limited time!
Visit the Official Critters Buggin Store!

---
New Dead Kenny G's and Garage a Trois dates posted!
DKG's will be doing a West Coast tour in October and then Garage a Trois will hop back in the van in December to hit both the West and East coast in support of their new record 'Power Patriot' due to be released October 27, 2009. Check the LIVE page for dates.
---
New (old) Live Download: Live In 95 at the OK HOTEL - Seattle - aka Sorry For The Reverb


The CB central command and biscuit shoppe just received word that the new live download of a show from 1995 with the original line up - Skerik, Matt, Brad and John Bush is out now!! Skerik says "It's frickin crazy and it's got OG John Bush on percussion, samples and analog synth!! Listen to the creation happen from inside the WOMB!!" This download is exclusively available now only through CrittersBuggin.com Downloads. Listen to sound clips and purchase it here!

McTuff West Coast Run | Matt Chamberlain News
Matt is currently rehearsing for another world tour with Tori Amos which starts in July and Skerik is at the starting line of a multi-city tear down the West Coast with McTuff, a stint at the High Sierra Music Festival, and ending with a mid July date with CRACK SABBATH!!! Check the LIVE page for details.
---
GARAGE A TROIS is happy to announce THREE shows in New Orleans during Jazzfest, tickets ON SALE NOW!!

Garage A Trois
Friday, April 24, 2009
Riverboat Creole Queen
[www.superflypresents.com]
Tickets $40
Doors open at 7:30pm / Boat Departs at 8:15pm sharp
Tickets can be purchased through http://superflytickets.musictoday.com/ on Saturday, January 31st at Noon ET.


Megalomaniacs Ball
Wednesday, April 29, 2009
Howlin Wolf
[www.howlin-wolf.com]
Featuring Garage A Trois
w/ Midnight Disturbers [www.myspace.com/midnitedisturbers], Dead Kenny Gs [www.thedeadkennygs.com], Stanton Moore Trio [www.stantonmoore.com] and Marco Benevento Solo [www.marcobenevento.com]
$25 (first 100 tickets are $20!!)
Music starts at 10pm
Tickets - AVAILABLE HERE


Garage A Trois
Friday, May 1, 2009
One Eyed Jacks
[www.oneeyedjacks.net]
$18/$20
Doors 9pm, Show 10pm

For more information please visit:
www.garageatrois.com
www.myspace.com/garageatrois
---
Master Musicians of Jajouka Announce US Tour!!
For the first time in nearly a decade, The Master Musicians of Jajouka led by Bachir Attar will be touring in the US this February - making stops in Los Angeles, San Francisco, Seattle, Portland, Washington DC, and New York. It will surely be a rare opportunity to experience one of the oldest and most unique musical traditions known on the planet, one that has endured through generations for more that 1,300 years and has influenced jazz legends, rock gods, artists and literary elites from across the world since the 1950s.

For the first time in nearly a decade, The Master Musicians of Jajouka led by Bachir Attar will be touring in the US this February - making stops in Los Angeles, San Francisco, Seattle, Portland, Washington DC, and New York. It will surely be a rare opportunity to experience one of the oldest and most unique musical traditions known on the planet, one that has endured through generations for more that 1,300 years and has influenced jazz legends, rock gods, artists and literary elites from across the world since the 1950s.

Check out their newly revamped website for more information about the tour and their new release Live Vol 1
www.jajouka.com

---
NEW YEARS EVE SHOW ANNOUNCED!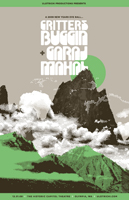 Critters will be playing on New Years Eve at the Capitol Theatre in Olympia!! Also on the bill is Garaj Mahal.

Tickets go on sale at 3pm PST through www.BuyOlympia.com/events - $20 limited early bird pre-sale while they last!!!

**For the traveling folk we have arranged for a special NYE Ball rate at one of Olympia's most historic hotels, The Governor. Located two blocks from The Capitol Theatre, The Governor is the ideal centrally-located base of operations for a memorable night.

Contact: April Graff - april@olywagov.com
Keyword: New Years Eve Ball




---
NEW CRITTERS BUGGIN DVD - OUT NOW!!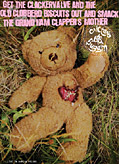 Critters Buggin release LIVE DVD!! In 1999 Critters Buggin was asked to play the WARSAW SUMMER JAZZ DAYS, it was recorded by the national TV station, a high quality multi-camera shoot. The audio was recorded by our own Mell Dettmer, live to 2 track, using a mics/board matrix recording. The performance took place in THE PALACE OF CULTURE AND SCIENCE, a giant Stalin built building, with all the Soviet touches. The band had been touring a lot during this time, a great example of a Critters Buggin live show. The DVD also includes 2 bizarre 'intro films' made by 'WORD PUBLIC' for the band's Tokyo shows in 2004. The Bruce Bickford clay animation video of 'BROZO THE CLONE' is on the DVD, and a Balinese shadow puppet music video of 'PANANG' is there as well. ROBOBONES visits the studio, and there are multiple slideshows featuring the photographs of long time Critters photographers Bruce Tom and Nicholas Polimenakos, and Michael DiDonna. The DVD is packaged in a full color 4 panel digipak designed by Maurice Caldwell Jr. and Regan Hagar for extra conceptual power.
ORDER NOW
!
---
This just in to Critters Buggin web headquarters
Extremely urgent breaking news story: NEW CRITTERS BUGGIN DVD SOON TO BE RELEASED

On October 31, 2007, the new Critters Buggin DVD: Get The Clackervalve and the Old Clobberd Biscuits Out and Smack the Grand Ham Clappers Mother
will be released in local Seattle, WA retail stores and on Crittersbuggin.com!! It's pure ham pounding Critters Buggin brutality for your eye and ear holes!!


---

3 members of Critters Buggin will be touring as THE DEAD KENNY G's this October. Skerik - sax & keys, Mike Dillon - drums,
percussion, vibraphone, Brad Houser-bass. Tour will start in Austin, TX and head north. Check back for the horrid details!!

New Syncopated Taint Septet record, live, with string section and Vocalist Om Johari will drop sometime this winter.
And new Beta Popes releases!! A new studio record and a live record...

Matt Chamberlain's project with Bill Frissel, Tucker Martine, and Lee Townsend called Floratone is available now on Blue Note Records.
It's a beautifully organic, funky, ambiently groovy work of futuristic roots music. Peep the Floratone Website for more info.


---

Skerik lands EV microphone endorsement | ARTICLE
We are happy to announce Skerik is now an ooo-fishal endorser of EV microphones. You've seen him freak on stage with the N/D468
and you've become hot and bothered by the pure sexuality and sonic clarity of the RE20 and the RE27N/D. Now read about the man
and his mics HERE

Limited Edition Letterpress Posters Available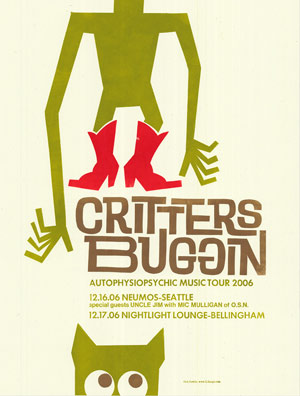 Dirk and Carol Fowler from F2 Design created some award winning posters for our shows in 2005 and 2006
which we're making available to you in limited quantities. These posters are hand letterpressed
and are truly works of art. Drop by the store to purchase one today.

---

Big in Japan
Japanese boarders love Critters - check out Jon Speice from HABMX in the background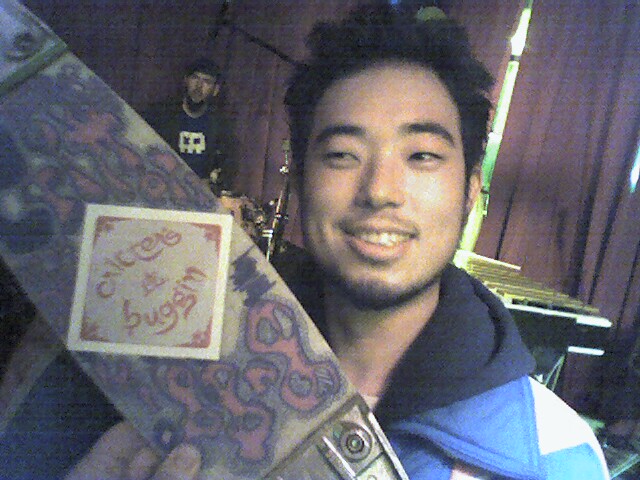 Poster of the Week
The Critters Buggin poster designed by Dirk Fowler (www.f2-design.com) for our December shows was voted poster of the week by The Stranger.
It's a beauty - check out the article in The Stranger HERE

Skerik's Syncopated Taint Septet Featured on 2007 Jambase Benefit Calendar

A wonderful photo of the Taint taken by Bruce Tom appears in the 2007Jambase Calendar. In keeping with the tradition of donating profits from the calendar to children's music organizations, the beneficiary for 2007's Jambase calendar is KID smART (www.kidsmart.org) from New Orleans. The goal of KID smART is to strive to teach positive life skills and increase student learning in all subjects through understanding and appreciation of the visual and performing arts. Working with professional arts educators, KID smART presents high quality, intensive arts education thorough Artist in the Classroom, After School and Community-based programs. Post Katrina, KID smART is working in 12 new schools in New Orleans and has created a teacher training program on arts integration.

To order a calendar visit JAMBASE

Other artists featured in the calendar include:
• My Morning Jacket photography by Dave Vann
• Rose Hill Drive photography by Lisa Siciliano
• Grace Potter & The Nocturnals photography by Rob Grego
• Dirty Dozen Brass Band photography by Rod Snyder
• Drive-By Truckers photography by Adam Smith
• Steve Kimock photography by Susan J. Weiand
• Apollo Sunshine photography by Sydney Grahovec
• Jacob Fred Jazz Odyssey photography by Greg Aiello
• New Orleans Second Line photography by Zack Smith
• The Benevento/Russo Duo photography by Michael Jurick
• The Flaming Lips photography by Jay Blakesberg

New Baron's Club reading
Baron's Club brings you another exciting bit of writ; Frank Zappa.

Skerik, Bobby, and Jamie DVD
Bobby Previte, Jamie Saft, Skerik Trio (NOT Beta Popes) DVD is now available!! Shot in Tokyo, Japan. Multi-camera, visuals, serious editing by Word Public, limited release in the US. Check out the Store - You buy now!

New Beta Popes recording
Live Hate is available now for download only in the Critters Buggin Download Store. Skerik says "it rocks, brutally!"
You better get it.
Skerik appears on the new release from New Orleans sousaphone Legend Kirk Joseph
Kirk Joseph, Sousaphone legend, (Original Dirty Dozen Brass Band, NOLA and worldwide powerhouse) has released a new record called 'Kirk Joseph's Backyard Groove - Sousafunk Ave.' Skerik had the absolute honor of playing on this mighty testament, which also features Dr. John, Donald Harrison, and many other important NOLA musicians. Check it out at kirkjoseph.com and buy it at louisianamusicfactory.comThis is a great way to support NOLA musicians DIRECTLY.
---
Old Old Old News...
Bungle In the Jungle!!!
New dates posted for Mike Dillon's new project - Mike Dillon's Go-Go Jungle!!
Check out the LIVE page for solo shows and dates supporting Zilla and Galactic through
March and April!
CRITTERS BUGGIN DVD IN THE WORKS!!
We're working on putting togther our first DVD and need your help.

Our new DVD will be coming out sometime in 2006 and we're looking for any video footage, old clips, digital scans of
concert posters, pictures from Tiger Beat magazine, or sweaty towels.
We need any submissions by Feb 26so don't delay!!
Send submissions via email to Critters Buggin or via U.S. Post to: Critters Buggin, 5205 SW Jacobsen Road, Seattle, WA 98116
We'll give you more details on the project as they become available.
Matt Chamberlain Solo CD available now!!
The long awaited solo masterpiece from the spaceboy is now available for purchase through his website.
Watch for it to be available in the Critters Store on this site very soon!
"Utilizing the all-pro string arrangement skills of Eyvind Kang, percussion
instruments from far off places and planets, archaic electronics, analog sythesizers,
outer space spaghetti western guitar, and sonically mutilated drum-kits of every size
and make, Chamberlain's debut album is a full-bodied record that will sit proudly next
to Lalo Shiffrin, Autechre, Martin Denny, Amon Tobin, David Axelrod, Hal Blaine and
Critters Buggin records." - Trey Spruance
Visit www.mattchamberlain.com for details and soundclips.
There are NEW SHIRTS from Fast Atmosphere with actual FAST shipping! No more 4 week turnaround on T-Shirt orders!!!!
"Stampede" the new album by Critters Buggin on Ropeadope Records is now available in the Store! You will also find in the Store the recently re-released titles - "Guest", "Host", "Bumpa" and "Monkeypot Merganser" on Kufala Records! These re-releases are beautiful!
In Critters related news -
Skerik's new record "Left for Dead in Seattle" is currently only available on this web-site in the STORE section.
Crack Sabbath has just released "BARSLUT", buy it now in the STORE. An "official" Skerik web page will be launched soon, in the meantime visit Skerik.Org and SkerikBlows.Com for "non-official" info.
THRUSTER! A new super group featuring Matt Chamberlain on drums, Timothy Young on guitar and Kaveh Rastegar on bass have released their debut CD. To order the cd please e-mail here. Thruster! will also have a live CD available soon at Kufala Records. They recently went BACK into the studio to work on yet ANOTHER record!